World Cup 2010 South Africa - Rustenburg Tourist Information
Rustenburg is South Africa's fastest growing city and lies just 70 miles north of Johannesburg. Rustenburg boasts the largest Platinum mine in the world and although Rustenburg is heavily industrialised, the city is green and lush. Capital of the North West Province, Rustenburg is handily located for 7 of the Province's National Parks.
Rustenburg is just 30 minutes from South Africa's premier holiday resort. South Africa's Sun City offers everything the holiday maker needs from big steaks to big stakes. Numerous gourmet restaurants tickle the taste buds while the casino offers you the opportunity to drop the mortgage payments. Sun City has a history as a destination for illicit fun. The complex sits on the territory of the former homeland of Bophuthatswana - classed as an independent state by the apartheid regime. Sun City made use of this status by offering the kind of gambling and topless entertainment opportunities banned by apartheid.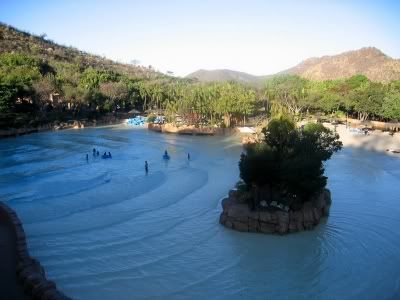 Sun City offers many hotel options including the Palace of the Lost City - an amazing fairytale paradise. The attention to detail inside is amazing and if you can afford to pay £3,000 a night you can get a room with a jacuzzi on the balcony. Visit Sun City and the opportunities for activity are endless. South Africa's most advanced water park is here. The Valley of the Waves has a wave machine that can generate a wave nearly 2 metres high every 90 seconds. Professional thrill seekers can drop down a 17 metre shute from the ominously named 'Temple of Courage'.
The complex is surrounded by the mountains of the Pilanesberg National Park where adventure seekers can take a balloon safari. The balloon safari packages include a game drive, champagne and a full English breakfast. After breakfast why not have a round of golf on one of Sun City's two 18 hole golf courses. Is there anything this place doesn't have?
International flights to Rustenburg are served by Johannesburg International Airport. Rustenburg is just 70 miles from Johannesburg. Car hire and airport transfers can be arranged easily from Johannesburg.
2010 World Cup South Africa - Rustenburg World Cup Fixtures
2010 World Cup South Africa - Rustenburg World Cup Stadium Information
Originally built as a venue for the 1995 Rugby World Cup, The Royal Bafokeng stadium has a capacity of 40,000. Minor upgrades are planned before the 2010 World Cup.
North West Province Official Site